Talks and presentations
Om denne side
Denne side er mest til mig selv for at kunne samle de slideshows jeg har lavet, så jeg nemt kan bruge den igen, hvis det skulle være nødvendigt. Hvis nogen er interesseret i hvordan de er lavet kan I læse artiklen: Presentations with LaTeX beamer class – KU style.
Geofysikdag 2008
Den 11 april 2008 fortalte jeg mine medstuderende om "Receiver function modellering" til Geofysikdag, som er et event arrangeret af Dansk Geofysisk Forening.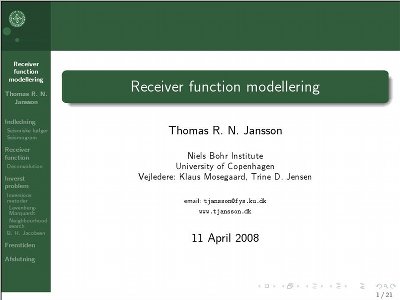 Download: geofysikdag.pdf 906 kb (21 sider)
Hovedfagskollokvium – "Dæmpning af seismiske bølger"
Den 21 december 2007 holdt jeg mit hovedfagskollokvium om "Dæmpning af seismiske bølger".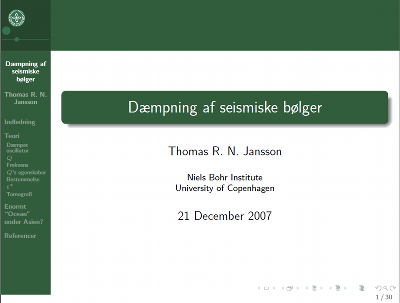 Download: attenuation.pdf 2.8 mb (30 pages)
Foredrag for Bachelor studerende 2007
Den 9 november 2007 holdt jeg et foredrag om det bachelorprojekt jeg sammen med Kåre H. Jensen og Martin P. Haspang skrev i 2005. Publikumet var bachelor studerende som skulle til at vælge emne for deres eget projekt – foredraget hed "Roterende vand".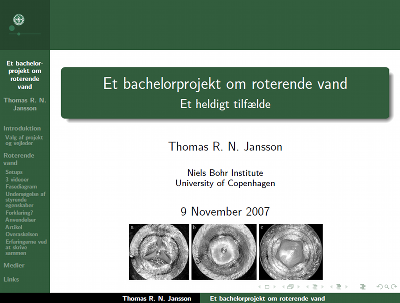 Download: roterende-vand.pdf 16.9 mb (24 sider)